Quality office furniture and bespoke design tailored to create a unique working environment
Creating the right working environment is proven to increase productivity and employee engagement as well as impress your clients and visitors. The right choice of office furniture is instrumental in doing this. Whether it is a simple choice of an office chair and desk or more fundamental decisions, like how to completely redesign a creative or collaborative space. Our experienced team of Friendly Experts specialise in developing functional, comfortable and stylish workplace solutions tailored to your individual needs. By either helping you navigate our range of office furniture online or by tapping into our extensive supplier and design network, we will help you create a workplace that fits your brief and budget.
Whether you are after an entire office refurbishment, design consultancy, relocation support, space planning or simply a new desk or chair, we are here to help. We'd be delighted to help you with your office furniture or refurbishment project and manage the implementation once the planning is complete.
We offer free space planning service, complete with 2D or 3D drawings to help you visualise your new workplace before going ahead with the project. Health and safety is very important for the welfare of your employees, so we will help you ensure that your new office furniture not only adheres to the latest regulatory requirements, but also provides the required level of support to each and every one of your employees.
Office furniture consultancy
Not sure where to start or exactly what you need?
A well-designed office space can increase the productivity of your team and ensure that your business is operating as efficiently as possible. We can analyse your office space and advise you on the solution that will combine comfort with functionality.
Office space planning
Want to make the most of your unique office space?
You can bring your office design ideas to life with our high-quality 2D and 3D drawings. This will allow you to view your design project in the closest detail before proceeding further with your project. We'll help you make any adjustments and ensure there are no surprises later on.
Office design services
Want the wow factor that's fit for purpose?
Ensure that your office space reflects your brand and company values, increases staff motivation, enhances efficiency, makes the best use of your space and is beautifully designed. Our specialised office design team will work with you to help you achieve that.
Budgeting assistance
Need to make sure you get the best value for your money?
Don't let a tight budget hold you back from office improvements, just talk to your Friendly Expert and they'll help you plan your project within your budget and timescales. With us, there are no nasty last-minute surprises. Our team will work with you to ensure we can meet your requirements, within your budget.
Ergonomic workplace assessments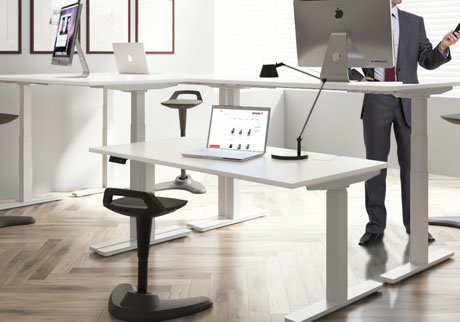 Want to ensure that your team can work comfortably and effectively?
Improve health and comfort of your staff. Request an ergonomic workplace assessment to help minimise pain, maximise comfort and ensure compliance with Health and Safety Regulations. Our furniture range includes height adjustable desks, a wide range of adjustable office chairs and much more.
Furniture installation
Need some help installing and assembling your office furniture?
Whether you need to assemble one chair or re-fit your entire office, we can provide a hassle-free professional furniture installation service. Get your furniture installed with minimum disruption for your business with our 'out of hours' delivery and installation service. We will take away all packaging and ethically dispose of waste and redundant furniture for you.
We're passionate about office furniture
Our team of Friendly Experts is passionate about office furniture, so you're in good hands. Their knowledge and expertise will ensure that you have no problem finding the right office chair to suit your needs or sourcing the right desk that matches your requirements. Our design skills will help you re-fit your entire office or find home office furniture to match your style and budget. Whatever you need, we'd love to help.
If you need help in choosing the right furniture, we'll provide you with advice and guidance right there and then. If you require a simple installation job, then we'll arrange a specialist to deliver and install your office furniture for you. For more comprehensive projects, our Friendly Experts will arrange to visit you at your office and have an in-depth consultation. .
Office furniture range for all your needs
Browse our office furniture online, but remember that we have thousands more products that may be more tailored to your needs.